#2. Roll Top Chafing Dish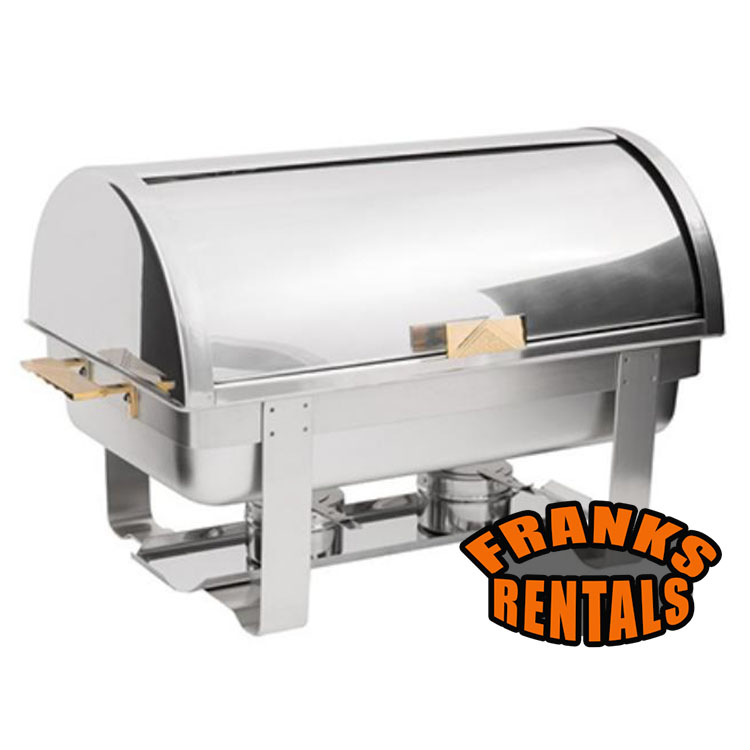 Keep your food hot and serve it in style with rented chafing dishes.
Chafers

Rental chafers hold buffet food and keep it at the correct serving temperature. Chafers consist of a water basin, a heat source and a food pan. The heat source heats the water in the basin to create steam, which keeps the food in the food pan warm.

Heating element

Rental chafers usually run on solid fuel, liquid fuel or electricity. Disadvantages of using solid or liquid fuel as a heat source include having an open flame and possibly higher fuel costs. Whereas, electric chafers offer heat without a flame, but require an electrical source, which may not be available. They also have cords that could trip someone.

Lids

Generally, rental chafers have either a roll-top or a lift-off lid. When space is limited, roll-top lids tend to work best because they retract into the chafer allowing wedding guests to open the chafer and then serve themselves using one hand. They also allow people to serve themselves from both sides of the table. If the chafer has a lift-off lid, wedding guests need space on the buffet table to set down either the lid or their plates in order to serve themselves. Lid holders that attach to the chafer can provide a convenient place to put the lid.
If you're looking for a rental company that will provide the best customer service and help make your experience as stress-free as possible, then look no further than Franks Rentals.
Come see us today at  2071 Plainfield Pike Johnston, RI 02919 or Call Now!