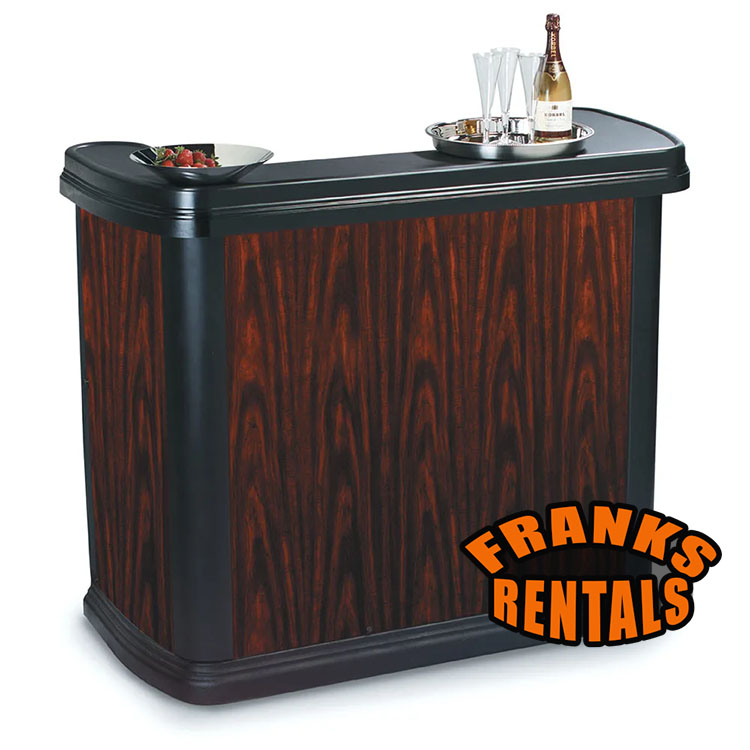 This portable bar is designed with a solid molded countertop that provides a comfortable workspace for mixing drinks and can be easily sanitized. Storage is maximized with a large under-drawer compartment and 22-inch Speed-Rak which holds as many as six liquor bottles at once. For fresh cocktails, its built-in cutting board enables operators to slice fruit on the spot.
Product Details
Part of the Maximizer™ series
Low-density polyethylene construction eases cleaning
Large 56-in service area provides ample room to mix and serve drinks
Solid molded countertop and molded-in bar mat ease cleaning
Integrated 15-gal. ice bin incudes drain, water trap, and dust cover
Built-in cutting board for slicing lemons, limes, and other cocktail ingredients
22-in. stainless steel Speed-Rak holds 6 liquor bottles
5-in. nonmarking casters can be locked securely in place
Ships fully assembled

Overall dimensions: 56 in. L x 261⁄2 in. W x 481⁄2 in. H
If you're looking for a rental company that will provide the best customer service and help make your experience as stress-free as possible, then look no further than Franks Rentals.
Come see us today at  2071 Plainfield Pike Johnston, RI 02919 or Call Now!